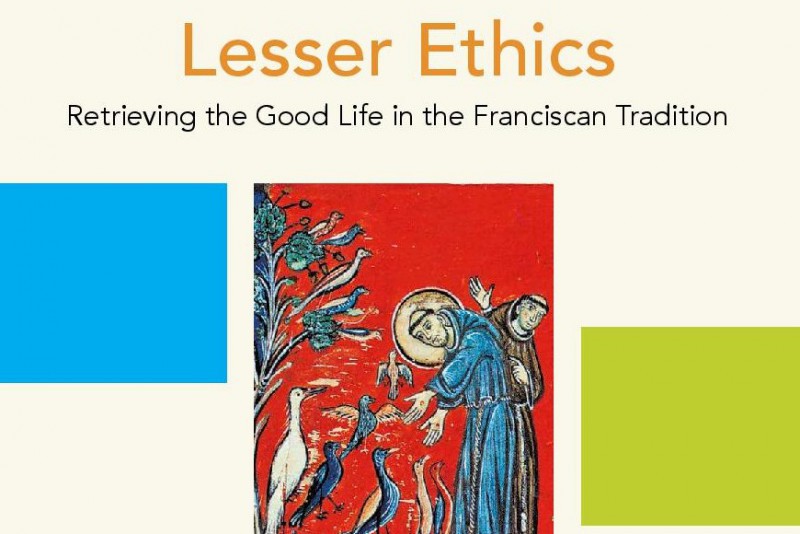 This interdisciplinary conference seeks to tease out a new, more relational methodology for ethics in our time. It does so by addressing the question how we can make the Franciscan intellectual and spiritual tradition, in particular its articulation of moral goodness and concern for the common good, relevant and fruitful for a present-day ethical practice.
See the program here (.pdf) and register for the conference here.
Our speakers are:
Trevor Bechtel engages students at University of Michigan's Poverty Solutions by facilitating a variety of programs, events, and research opportunities. He manages academic initiatives, teaches, oversees research assistants, and liaises with student groups across the university. Previously, he served as dean of Conrad Grebel University College in Waterloo, Canada, and associate professor of religion at Bluffton University in Ohio. In addition to his academic work Bechtel is known for building close connections to students, whether formally in positions like honors director at Bluffton or creatively through initiatives like Anabaptist Bestiary Project, a student rock 'n' roll band. Bechtel holds a doctorate in constructive theology (2008) from Loyola University Chicago and has published The Gift of Ethics and Encountering Earth: Thinking Theologically With a More-Than-Human World.
David B. Couturier, OFM. Cap., is director of the Franciscan Institute, Associate Professor of Theology and Franciscan Studies and Director of University Planning at St. Bonaventure University in Olean, NY. He also holds an appointment as the Dean R. Hoge Professor of Pastoral Planning and Church Management at the Graduate Theological Foundation in Indiana and Oklahoma. He received a Licentiate in Clinical Psychology and did his clinical residency in psychotherapy at the Institute of Psychology in Rome. He studied organizational development and socio-analysis at the William Alanson White Institute for Psychiatry, Psychology and Psycho-analysis in Manhattan. He received a DMin in pastoral counseling and a PhD in pastoral psychology and organizational studies from the Graduate Theological Foundation (1999, 2005). His books include The Fraternal Economy: A Pastoral Psychology of Franciscan Economics, The Four Conversions: A Spirituality of Transformation, Franciscans and their Finances: Economics in a Disenchanted World, Franciscan Women: Female Identities and Religious Culture, Medieval and Beyond (co-editor) and The Voice of Victims, The Voice of the Crucified.
Brian J. Cudahy received his Ph.D. in philosophy from the Franciscan Institute at St. Bonaventure University in 1963 and taught for a decade-and-a-half at Boston College. He left academia in the mid-1970s and pursued a career in urban mass transportation, where he published widely, primarily with Fordham University Press. Following formal retirement in 1999, he returned to the classroom at the University of South Carolina in Beaufort where he has been teaching philosophy and religious studies for the past decade. His most recent book is called From Blackmoor Lane to Capitol Hill: An Irish Capuchin's Influence on Bishop John England of Charleston, SC.
Joshua Dieterich is currently the Director of Catholic Formation for St. Mary's Visitation Parish in Elm Grove, WI, and is in executive leadership in both the Musica Oramus and AriseMKE (Milwaukee) apostolates. He did his graduate studies in Church History at Catholic Theological Union and in Catechetics at Franciscan University of Steubenville. He is the author of The Sacrament of Mercy and has also been published in both The Catechetical Review and The Fellowship of Catholic Scholars Quarterly. He and his wife Melissa live in the Milwaukee suburbs with their 7 children and 4 fish.
Kristen Drahos is an Assistant Professor of Theology at Briar Cliff University and holds the Sisters of Saint Francis Endowed Chair in Theology. She received her doctorate in Systematic Theology from the University of Notre Dame, and her work explores various cruciform dimensions of Catholic thought, continental philosophy, and literature. She is particularly interested in questions related to beauty, doubt, death, and suffering. She has published articles in Religion & Literature, The Church Life Journal, and Practical Matters, and has two chapters forthcoming in edited volumes: "Theodicy and Drama in Hans Urs von Balthasar" (Illuminating Modernity: Thomas Aquinas and Hans Urs von Balthasar) and "Beauty's Surround: The Grammar of Beauty in Daily Catholic Life" (Global Perspectives on the New Evangelization).
Johannes B. Freyer OFM holds a Th.D (1989) in Theological Spirituality from the Pontifical University Antonianum and a Th.Habil (2000) in Dogma History and Systematic Theology from the Theological Faculty Trier. He is Franciscan Policy Advisor of the international relief organization "Franziskaner Helfen" (former "Missionszentrale der Franziskaner") at Bonn and Visiting Professor of the Franciscan School of Theology in San Diego. His publications include Der demütige und geduldige Gott – Franziskus und sein Gottesbild and Homo Viator: Der Mensch im Lichte der Heilsgeschichte – eine theologische Anthropologie aus franziskanischer Perspektive. He is Co-editor of Wissenschaft und Weisheit and Director of the Johannes Duns Skotus Akademie.
Alex Gillham holds a Ph.D. (2018) in Philosophy from Purdue University, where he wrote a dissertation on Epicurus' ethics under the supervision of Patricia Curd. He is now an Assistant Professor of Philosophy at St. Bonaventure University, where he teaches ethics and runs the pre-law program. Gillham's research focuses on a few topics in ancient philosophy, ethics, and philosophy of religion.
Jarek Jankowski is an MPhil Student in Philosophical Theology at the University of Oxford. He previously studied Philosophy and Liberal Studies (Intellectual History) at the University of Notre Dame. He has a strong interest in the reception and appropriation of scholastic theology, especially in the Franciscan tradition, as well as the promise of scholastic methods and practices to renew contemporary theological discourse.
Jan C. Klok is a visiting fellow at the University of Kampen and a research fellow at the Amsterdam Centre for Religious History of the Free University in Amsterdam. He received his doctorate in Church History (2019) from the Eberhard Karls University in Tübingen with the dissertation Der Lukaskommentar des Bonaventura von Bagnoregio als Handbuch der franziskanischen Spiritualität. He is working in the field of Medieval and Reformation Theology, with special attention to the history of exegesis. He published on Bonaventure and Beza, and is preparing a critical edition of Calvin's sermons on the Psalms.
Cathy Melesky Dante is a PhD student at Marquette University as well as a spiritual director and lay minister. She holds a Masters in Social Work from Springfield College (2000) and Masters in Divinity from Washington Theological Union (2009).
Joachim Ostermann OFM received his Ph.D. in Biochemistry from the University of Munich in 1990. He became a Franciscan in 2009 and earned a M.Div. from Newman Theological College in Edmonton in 2013. As a scientist, his research interests were the mechanism of intracellular protein trafficking and proteomics to understand disease mechanisms. Now his interest are the relationship between the Franciscan view of nature and modern science. His book Remembering Francis: Making Sense of Modern Life will be published later this year by the Franciscan Institute Publications of St. Bonaventure University.
Krijn Pansters holds a Ph.D. (2007) in Medieval History from Radboud University Nijmegen and a Ph.D. (2019) in Medieval Theology from KU Leuven. He is a staff member of the Franciscan Study Center and teaches Christian Spirituality at Tilburg University, School of Catholic Theology. His publications include Franciscan Virtue: Spiritual Growth and the Virtues in Franciscan Literature and Instruction of the Thirteenth Century and the edited volume A Companion to Medieval Rules and Customaries. He is the Chairman of IGTM – International Society for the Study of Medieval Theology (www.medievaltheology.org) and Chief Editor of Franciscan Connections (www.franciscanconnections.com).
Katarzyna Parzych-Blakiewicz holds a Ph.D. (2000, Pontifical Academy of Theology in Krakow, Poland) and is Professor in Theology of the Faculty of Theology in University of Warmia and Mazury in Olsztyn, Poland. Her publications concern dogmatic theology, ecclesiology, mariology, and anthropology, and her special areas of research are theology of dialogue and theology of saints. She is the Chairman of the Department of Fundamental and Dogmatic Theology and Biblical Science and Chief Editor of "Forum Teologiczne" (http://www.uwm.edu.pl/ft/en/homepage/).
Darleen Pryds holds a Ph.D. in Medieval Intellectual History with a minor in the History of Science from the University of Wisconsin at Madison (1994). She worked at the Newberry Library (Chicago) and taught at Virginia Tech (Blacksburg, VA) before coming to the Franciscan School of Theology in 2001 (Berkeley; as of 2014 San Diego). Her research focuses on lay Franciscans in the 13th and 14th centuries. She has written three books including The King Embodies the Words: Robert d'Anjou and the Politics of Preaching; Women of the Streets: Early Franciscan Women and their Mendicant Vocation; and Enduring Presence: Diversity and Authenticity among the First Generations of Franciscan Laity. Her many articles explore issues such as lay preaching, women's religious leadership, and emotional range in the Franciscan Tradition. She is presently working on a book length manuscript on Franciscan Laity.
Jonathan Reinert holds a Ph.D. in Theology from Friedrich Schiller University in Jena. His research focusses are the German Reformation of the 16th century and the Franciscan movement in the 13th century. Thematic interests are passion piety and the theology and spirituality of prayer. He is a research assistant at the Institute for Late Middle Ages and Reformation of the Faculty of Protestant Theology in Tübingen. His latest publications are his dissertation about Lutheran and Catholic passion sermons in Reformation time (Passionspredigt im 16. Jahrhundert. Das Leiden und Sterben Jesu Christi in den Postillen Martin Luthers, der Wittenberger Tradition und altgläubiger Prediger) and an edited volume about laity and clergy in the Middle Ages (Kleriker und Laien. Verfestigung und Verflüssigung einer Grenze im Mittelalter).
Willem Marie Speelman OFS studied Musicology in Amsterdam and Theology in Tilburg. He did his PhD on the generation of meaning in liturgical songs (1995), worked seven years as a scientific assistant on the Dutch Bishops Council for Liturgy, Liturgical Music and Arts, and then became a staff member of the Franciscan Study Center in the Netherlands, where he is the managing director. He teaches Spirituality, Franciscan Spirituality, Youth Culture and Mystagogy at Tilburg School of Catholic Theology, and publishes on spirituality, Franciscan spirituality, narrative analysis and music.
Tim Weldon holds a Ph.D. in Philosophy from the University of Dallas. He has taught at the University of St. Francis (Joliet, Illinois) since 2001. His work has appeared in Faith, Philosophy Now, The New Oxford Review, and The Journal of American Philosophical Practitioners.
David M. Wilmington (Ph.D., Religion (Theology), Baylor Univ.; Master of Theological Studies, Duke Univ) taught at Baylor University and the Truett Theological Seminary before becoming Asst. Academic Dean and Humanities Teacher at Petra Academy in Bozeman, Montana and an Area Editor (Music) for the De Gruyter Encyclopedia of the Bible and its Reception. Recently, he was Guest Editor for a special issue on Theology and Arts for the journal Religions, and published a chapter in the Franciscan Institute's volume Frater, Magister, Minister et Episcopus, and an essay on Jazz and modern ethics for the magazine Modern Reformation. In November 2021, he will deliver the Ignatius Brady Lecture, "A Harmonious City: The Musical Hierarchy of Ethical Formation" for the Franciscan Institute at St. Bonaventure University.