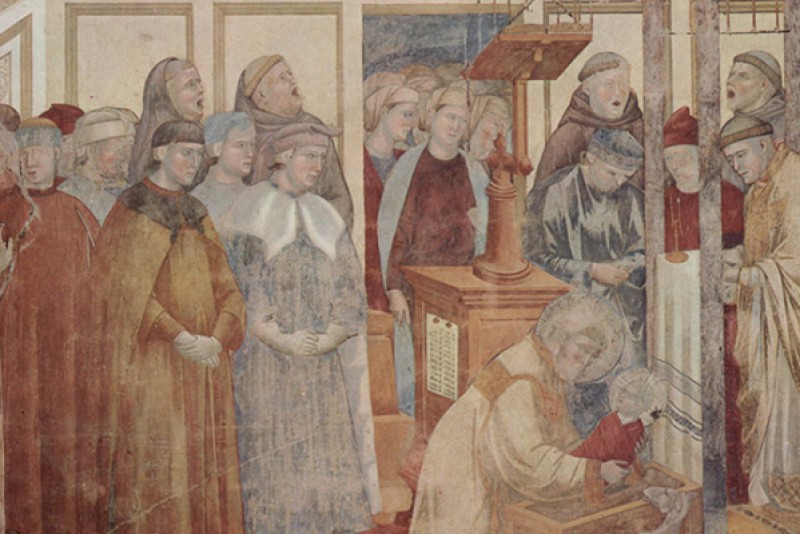 Experiencing The Incarnation in our Daily Lives
Anthony M. Carrozzo, O.F.M.
As Christmas approaches, our thoughts often turn to our favorite stories. For some it will be Dylan Thomas' baritone rendition of a Child's Christmas in Wales. For others it will be Menotti's dramatic operetta Amahl and the Night Visitors. Some may even turn to O'Henry's classical short story the Gift.
For Franciscans we easily gravitate to the moving renditions of Francis at Greccio, two versions. The earliest told by Thomas of Celano (I Cel 30) and the other by St. Bonaventure (Major Life 10). They agree in many details with Thomas's account much more detailed than Bonaventure's. That is to be expected. Thomas was interested in storytelling that promoted devotion to the Saint while Bonaventure, the theologian, was concerned with the account itself. This is not surprising. We often listen according to our experience, diverse backgrounds and contemporary needs. So some believe all the the details. Others question the details. Did the infant actually appear? If so, to whom? Does it matter?
For many of us today these are soothing accounts in a sin-soaked world. Like many a Christmas card, the Incarnation is presented as squeaky clean with angels singing and shepherd enthralled. While it is appropriate as we celebrate this great feast, we balance our response to the Incarnation with the reality that Jesus was born in an abandoned barn, visited by strangers who were nobodies, and were treated as nobodies themselves.
No one has presented the picture more profoundly than Thomas Merton in his often ignored poem Haggia Sophia. Merton presents his poem as a liturgy of hours, each hour of the day representing a different aspect of that hour. The final stanza like the entire poem demands attention and contemplation to discover the profoundly Franciscan dimensions of his view of Christ among us. His purpose is that we learn to live fully awake to our times but not allowing ourselves to be defined by them. Rather we look to be defined by the Incarnation itself.
At Sunset Merton prays the hour of Compline:
"It is Mary, Sophia, who in sadness and joy, with the full awareness of what she is doing, sets upon the Second Person, the Logos, a crown which is His Human Nature. Thus her consent opens the door of created nature, of time, of history, to the Word of God. God enters into His creation. Through her wise answer, through her obedient understanding, through the sweet yielding consent of Sophia, God enters without publicity into the city of rapacious men. She crowns Him not with what is glorious, but with what is greater than glory: the one thing greater than glory is weakness, nothingness, poverty."
Recall that Thomas Merton taught at St. Bonaventure University where he spent many hours among the friar scholars at The Franciscan Institute. There he learned both the stories told by the earliest brothers and the theological nuances of later scholars who moved away from story to the discipline of theology. Both sought truth, some poetically, others scholastically. Merton's genius here turns the difficult theology of John Duns Scotus into poetry pointing out that the one gift that Mary could give her child that he could not get on his own was human nature. That human nature, though, must not be touched by sin so as Scotus uniquely insisted Mary needed to be immaculately conceived so that she would not pass on sin to Jesus's human nature.
"She sends the Infinitely Rich and Powerful One forth as poor and helpless, in His mission of inexpressible mercy, to die for us on the cross."
Jesus entered into a world deeply affected by sin, so much so that he was rejected, cast out, not just at his birth but time snd again throughout his life.
In spite of the grace-filled world into which we have been born after the descent of the Holy Spirit, such rejection continues until our time. The poor, the homeless, the migrants may be at best overlooked or worse persecuted. We fear them because we do not know them.
Christmas is a time when we hear "do not be afraid" over and over again. Yet we are afraid. At the funeral of Eileen Joseph Regan, an Allegany Franciscan Sister, who taught me in the 7th grade, the story was told of her time ministering at St. Clare's Hospital in New York City. The hospital was in one of the toughest neighborhoods of Manhattan but Eileen fearlessly would walk around the block on late, dark nights. Homeless men slumbering in the gutters were heard greeting SIster and women resting against the stone wall of a building sharing their cheap bottle of gin, called out "Hi, Sister," "Be careful, Sister," " Have a good night, Sister." Years later she admitted that those greetings meant more to her than the many words of gratitude she heard during the day from her patients. Fear did not keep her away.
We are not immaculately conceived. Rather we are sinners among sinners, yet we are also graced among the grace-filled. We just do not recognize one another. Christmas is the feast when we recognize Jesus, new borne and fragile still living among us.
So Merton concludes:
"The shadows fall. The stars appear. The birds begin to sleep. Night embraces the silent half of the earth. A vagrant, a destitute wanderer with dusty feet, finds his way down a new road. A homeless God, lost in the night, without identifications, without even a number, a frail expendable exile lies down in desolation under the sweet stars of the world and entrusts Himself to sleep."
We can feel the chill that the Poverello would experience throughout his body if he were to read these words. Perhaps we are unwittingly overlooking the many Incarnations of Jesus all around us. As Merton says earlier in Hagia Sophia:
"O blessed, silent one, who speaks everywhere […]. He speaks to us gently in ten thousand things […]. He shines not on them but from within them. Such is the loving kindness of wisdom."
Christmas is the time for us to see the light, the star that is each person, for He shines within them. Do we have the eyes of faith to see one another as gifts this Christmas?
NOTE: Thomas Merton's Haggia Sophia is available in written form on the internet and performed on You Tube in a variety of presentations.
Fr. Anthony Carozzo, O.F.M. is former minister provincial of the Holy Name Province in New York.