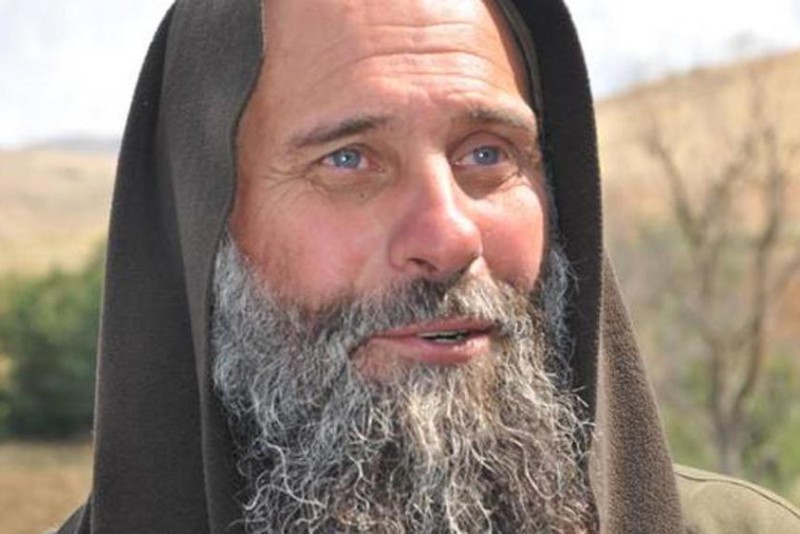 There is a hermit in each of us — you have to pull out the thorn. If I hadn't pulled out the thorn, I wouldn't have found this world.
When Biagio Conte died in Palermo a few weeks ago on January 12 he was mourned as a living saint — some even said a reincarnation of St. Francis. The layman's resplendent face and story, reflecting a life of pilgrimage, transformation, and the embrace of society's lowest seem modeled on the saint's. Even his motto and greeting – Speranza e carità (hope and love[1]) builds on Francis' Pace e bene.
Born in Palermo on September 16, 1963, Fratel Biagio was raised in a prosperous home and had the opportunity to pursue his father's calling in business. His father, in fact, took him on business excursions throughout Palermo, but these trips ironically instilled in Biagio a deep discomfort, indeed rejection of his well-off circumstances and the void between a society based on consumption and life on the streets. He tells us: "Something happened that upended my life and robbed me of strength. I thought life was at an end: everything was so negative; there was so much injustice, [and] I saw that it fell above all on the weakest, on my brothers who had no one, no one to hear. Traveling through the city, I saw such misery in the quarters where children played in the trash, the homeless elderly cowered in train stations and on street corners. Returning home I saw I had everything and they not even a little. This sickened me; I could find no peace within, and so a profound crisis was born. I asked the authorities (perhaps in a too harsh a manner, as I made placards and protested in the streets before the houses of the wealthy), but they took me for crazy, deluded: 'Mind your own business, close your eyes.'"
Despondency led him to leave home on May 5, 1990. Resolving at the time never to return to Palermo, he disappeared without a trace (and was even the subject of an Italian TV series about missing persons). Conte's hidden life first took him to rural Sicily, where he lived as a hermit and a shepherd, but he then left Sicily to hike the length of the Italian peninsula, encountering many on the way who reminded him of the destitute and homeless he had seen in Palermo. Inspired by Francis' "profound humility and simplicity" and the saint's having "dedicated his life to Jesus and his neighbor," he went to Assisi. At the tomb of St Francis, he resolved to give his life to the poorest of the poor. Initially he wanted to go to Africa or India, but "Jesus wanted the mission to be born in the streets of Palermo, at the central train station, among the train cars and waiting rooms, street corners, sidewalks, and benches where so many brothers slept and passed entire days amidst an absolute indifference." He did not need to go to Africa; Africa was to be found right at home.
In this way, La Missione della Speranza e Carità – the Mission of Hope and Love was born in 1993. Returning to Palermo, Conte lived and slept on the steps of the Stazione Centrale. He was among his brothers and sisters. He offered them hot tea and milk and sandwiches from his backpack, a first step, which over time evolved into a kitchen. Again, after fruitless appeals to the authorities, he undertook protests and hunger strikes — one lasting twelve days – until, finally the Mission of Hope and Love was granted use of a foundry building that had been abandoned for 30 years and thoroughly plundered, a building without windows or doors.
With his brothers and sisters, Fratel Biagio began the long process of conversion – of a building, of a city, of a world. His mission inspired donations of bricks, concrete, indeed all the building supplies needed to rehab the abandoned foundry. La Missione di Speranza e Carità would soon boast carpenter and machinist shops and another for making sandals. A recycling program crushed and baled some of the city's discarded paper, magazines, and corrugated cardboard. (The outcasts transformed what the city cast off, he would joke.) The abandoned building gave birth to La città dei poveri – the city of the poor in what had been an indifferent world, and Fratel Biagio's mission currently hosts some 600 persons in need, without regard for race, religion or place of origin. It hosts brothers and sisters from Sicily, Albania, Poland, Croatia, Vietnam, African nations, and even the Vatican — Pope Francis came for lunch in 2018!
The layman Fratel Biagio Conte's embodiment of the Franciscan spirit has brought dignity to the lives of many of Palermo's ultimi or least. He was known for his perpetual smile and shabby, green, hooded tunic – green for hope, he would say, adding that the color was quickly getting lost under layers of dirt. Fratel Biagio's many pilgrimages and his life in the streets eventually destroyed his knees, and confining him to a wheelchair in 2013, but he went to Lourdes and returned, restored. Subsequent pilgrimages took him throughout Europe, and he has spoken to the European parliament of the needs of our brothers and sisters in a failed world of consumption.
Reflecting Fratel Biago's spirit and that of his mission, the prayer of Giorgio La Pira is offered as grace before lunch and dinner at La Missione della Speranza e Carità:
O dear Jesus,
I send you all those who mourn and suffer
I send you our abandoned children, youths in scandal and danger,
the old in need, all those who suffer in poverty,
I send you those who mourn the death of their dear ones,
who look for work and do not find it,
who suffer in solitude.
The sick, the disabled, the victims of drugs and alcohol,
the imprisoned, the deported, the immigrants, the oppressed,
those in the world at war, refugees.
Comfort them, oh Lord, Help and bless them. [2]
Fratel Biagio was a beacon of the Franciscan way for our time.
John Martone
Note: Passages in quotation marks are (paraphrased) translations from an online interview of Fratel Biagio (https://www.youtube.com/watch?v=WJeZEjc2NG8&t=564s), and I have drawn other information from La Missione di Speranza e Carità website (https://www.pacesperanza.org). The only English language discussion of Fratel Biagio work I have been able to find is Giacomo Palermo's Brother Biagio Conte, the Sicilian Missioner (Monee, IL: 2023), a translation of Fratello Biagio Conte, il missionario laico siciliano (Monee, IL: 2023). In the short time since his death, countless remembrances in Italian have appeared online. Biagio, a biographical film (subtitled very poorly in English), can be found at https://www.youtube.com/watch?v=VI7TADG7lvk&t=1s.
---
[1] Although the literal translation of carità is "charity," the English word has nearly lost the sense of the selfless giving that the Italian word connotes and Fratel Biagio intends.
[2] Giorgio La Pira: statesman, scholar of Roman law, mayor of Florence, advocate of the poor, His many works include La nostra vocazione sociale (Our Social Vocation) 1945. L'attesa della povera gente (The Expectation of the Poor) 1951, Così in terra come in cielo (On earth as it is in Heaven), 1970. A candidate for sainthood, La Pira was declared venerable by Pope Francis in July, 2018.